Knaek Student Discount App
Knaek is the student discount app. Throughout the Netherlands and Belgium, Knaek gives you the highest and most exclusive student discounts in 28 student cities. Download the Knaekapp, grab your first year of college for free and get access to over 1,000 fat discounts with your Knaek ID.
Don't start your college years with a disadvantage!
Picture this: scoring a coffee for €1.50 every time before boarding the train. Always a secondburger for free or going out anddare to look at your accountthenext day.Shop online atNike, Flink, Thuisbezorgd and other cool webshops and always receive an extra discount. It isall possible, but only with Knaek. With Knaek you save a lot of money and that is exactlywhat you want as a student because life is already expensive enough.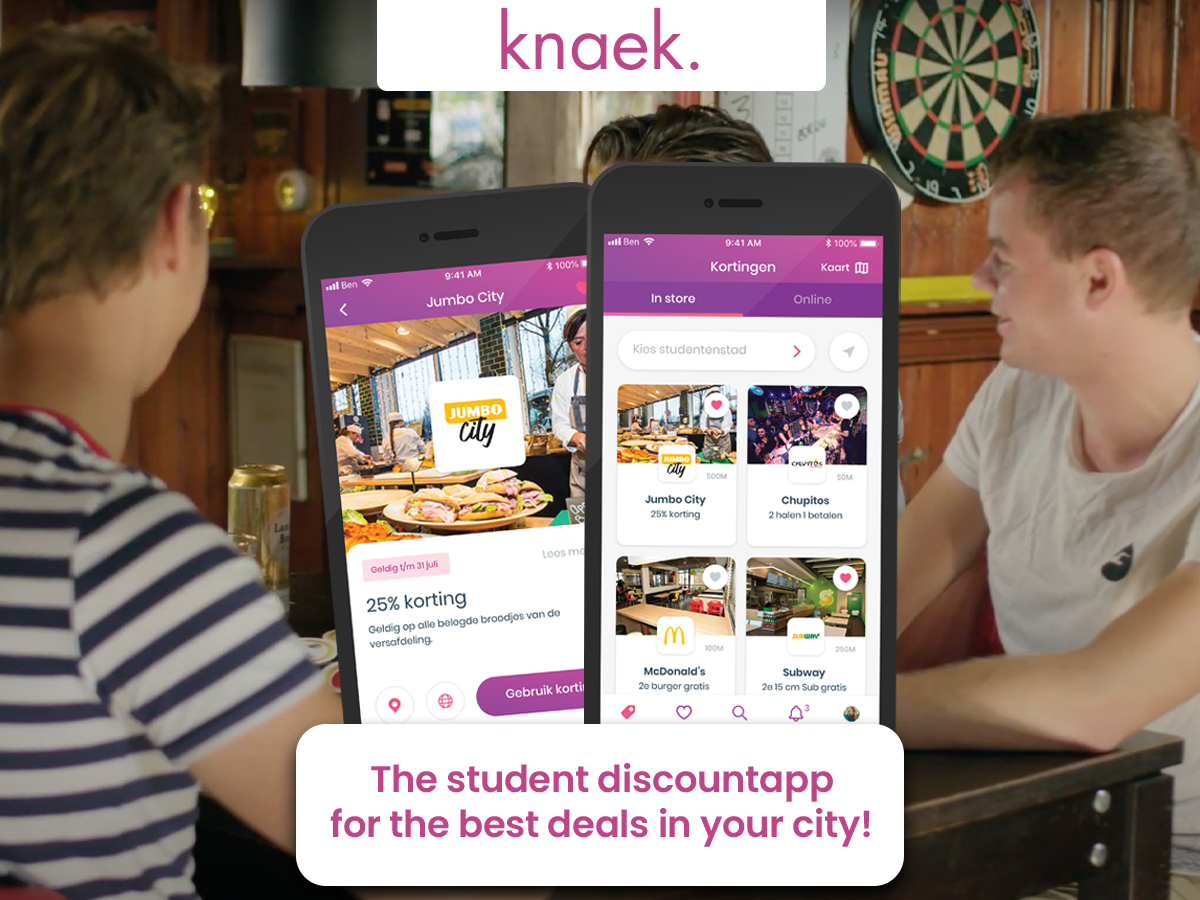 Examples of some discounts : 
1. In store
Starbucks Belgium: 2nd tall drink for free OR 15% off on your bill
The Park Virtual Reality: 25% off
Outpost Gamecenters: 20% off on computers
Cuba club Gent: second Strongbow beer for free
Wasbar Gent: Bagel Burger deal €9,50
Chapeluur Gent: Student Menu €10,-
And many more...
2. Online
Booking.com: Save 15% and more...
Fnac: 10% off +5,00% cashback
Mediamarkt: up to 30% + 1,00% cashback
Gorillas: €21,00 cashback
Aliexpress: up to 80% off + 5,00% cashback
America Today: up to 70% off + 10,00% cashback
Bodyfit: up to 60% off + 6,00% cashback
Dell: up to 25% off + 5,00% cashback
Hunkemoller: 12,50% cashback
JD sports: up to 50% + 15,00 % cashback
Levi's: 6,00% cashback
Nike: up to 50% + 10,00% cashback
And many more...
How does it work?
1. Login with your ESNcard account.
2. Claim your promo code (200 codes available).
3. Download the Knaek app and get with your Knaek-ID access to more than 1.000 student discounts