Erasmus Love Stories 2.0
The Erasmus Student Network is celebrating Valentine's Day in a special way this year. ❤️
We are organising an ERASMUS LOVE STORIES contest for all international students!
Share with us your Erasmus Love story and win amazing prizes from ESN partners ❤️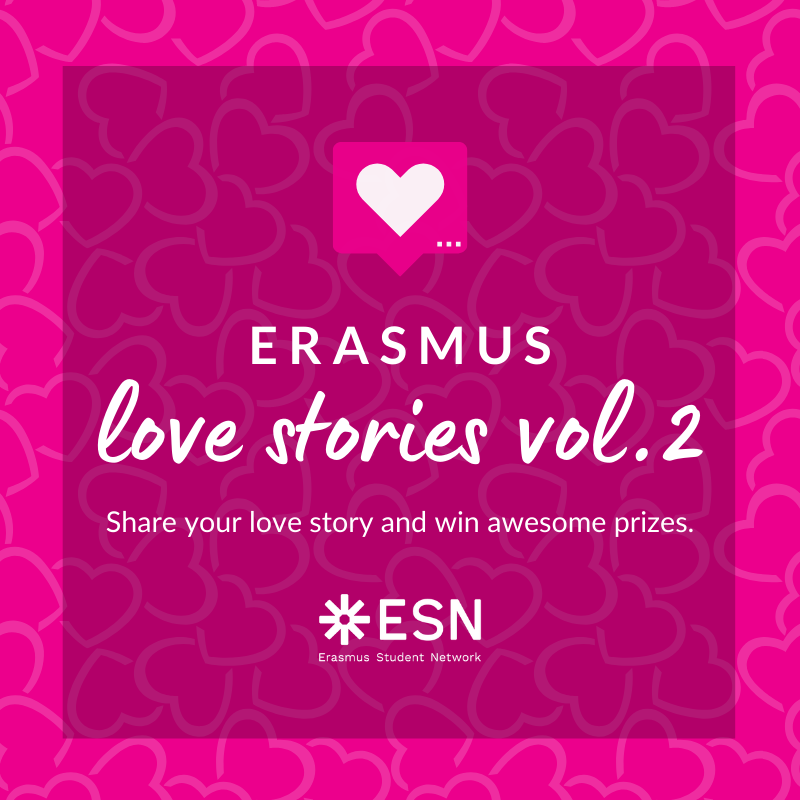 This contest's goal is to show that students on exchange programmes, despite their short-term staying abroad, can create strong and long-lasting relations. They are not afraid to bond even if they know that they and their loved ones will soon be separated by a pandemic and vast distances, and they tend to create memories that carry with them forever. But during all these new relations and interactions they also realise how much they love their people back home. Love has so many aspects and on this Valentine's Day, we want to discover them all.
Whether you found the love of your life or your best friend forever during your Erasmus, share with us your story and win amazing prizes.
Contest's Guidelines:
Who can take part in our contest
Everyone who has participated (or is participating at the moment) in an exchange or study abroad programme, aged 18 years or over.
How to take part
Send your Erasmus Love Story at erasmuslovestory@esn.org [until the 28th of February 23:59 CET], the text should be around 500 words (one page). You can also attached photos to your story. Write Valentine's Contest as subject and your story as the text of the email.
Please attach your story as a plain text, not as a file and mention your full name, nationality and date of birth at the end of your email.
How to win
Become a great storyteller and share with us the most unique story of you and your Erasmus beloved one.
The story that will make us say the longest "Awwwwww" will win.
The prizes
⬇️ The writer of 3 stories will win awesome prize packages from ESN partners! ⬇️
The prizes are:
1. Free tickets for you and your beloved one to any venue in the following list of holiday locations* provided by Tiqets
2. Full-year subscription to Perlego's online library with +300,000 eTextbooks
3. Eurosender free shipping voucher**
4. 100% discount on accommodation booking fee by Spotahome
5. Free travel course by BrightTrip
6. Have your story shared on the blog of the Erasmus Generation
All participants, by sending us an entry-email agree with the Terms & Conditions.
*Maximum price per ticket is €30
** The shipment has to be within EU, maximum 30kg